Built Like a Gymnast - Part 1
We all see them on television during the Olympics - powerful men performing amazing skills with ease and grace. The question inevitably arises - are they as powerful as they look? And the answer is - yes. What will probably be even more surprising to you is that they build their strength and physiques almost entirely with various bodyweight exercises.






So we should ask ourselves - is the bodyweight training of the Olympians also beneficial to the fitness enthusiast? And if so, is it possible to apply at least some of it to those without a professional instructor to guide them or tens of thousands of dollars of specialized gymnastics equipment? And the answers are once again - yes and yes.
Coach Sommer

has many specialised exercises that are relatively easy to learn and require little or no equipment beyond a chin-up bar and some floor space. In the below article, he covers the first of two primary gymnastics exercises - the planche, and it's progressions. Part 2 coming soon will cover the front lever, together these movements are an introduction to this type of training and were chosen for their novelty, the simplicity of the movements and for the excellent strength gains that are possible in a relatively short period of time.

The Planche Progressions:
Master each progression before moving onto the next by being able to hold it for 60 seconds. Initiallly that will take a number of efforts, how many sets it takes to reach the 60 seconds combined total time is irrelevant. All that matters is that you accomplish 60 seconds of "quality work". Once you can hold a position correctly for the entire 60 seconds in one set, it is time to move on to the next harder exercise and begin the training procedure all over again.
Static holds can be performed each day for maximum benefit, however it is also possible to obtain excellent results with other workout schedules. My personal favorite that allows maximum work combined with substantial rest is Monday, Tuesday, Thursday, Friday. Everyone's recovery ability is different. Simply experiment with the various schedules to see which suits your individual needs best. Static holds can easily be placed anywhere in your current routine. Once you have progressed to the more demanding planche pushups and front lever pull-ups, they should be placed in your workout in an appropriate spot for that exercise and body part and the static holds can continue to be placed at the end of the workout. You should try to work your way through the various progressions of both the planche and the front lever at the same time. As they work complementary muscle groups, working these two exercises together will actually increase the speed of your overall improvement as well as providing you with balanced development and strength in your shoulder girdle and core. Part 2 will be out very soon.

Frog Stand: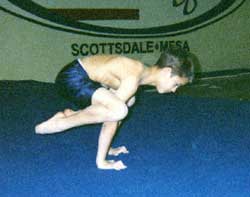 Begin this position by assuming a full squat and placing your hands on the ground directly in front of your feet. Arrange yourself so that your knees are resting against your bent elbows. Now gradually lean forward taking your weight both onto your hands and also onto your knees by leaning them on your elbows. As you continue leaning forward you will be able to remove your feet completely from the floor and hold yourself up with only your hands on the floor and your knees on your elbows for support (as above). Obviously balance is also a key to this exercise. Notice that this is the only static position in our progressions with bent elbows. Continue holding sets of this position until you have reached your one minute total time.
Tuck Planche: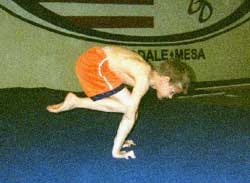 The main difference between the frog stand and the tuck planche is that now your weight will be entirely supported on your arms only. Once again begin in a full squat and place your hands next to your toes. Now, as in the frog stand, lean forward taking all of your weight on your arms and shoulders alone. Do not use your knees on your elbows for assistance. Holding the knees tightly to the chest will make this exercise easier. At first you may only be able to briefly raise off the ground. Do not worry. Keep adding small sets together to reach your goal of 60 seconds total. Simply continue working the position, striving to lift your hips to shoulder high. With consistent practice it is possible to increase your strength in static positions relatively quickly.
Advanced Tuck Planche: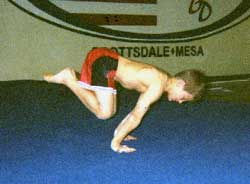 Once you feel comfortable with the tuck planche and are able to hold it for 60 seconds with correct hips and elbows, you can increase the difficulty of this exercise by progressing on to the Advanced Tuck Planche. The primary difference between the tuck and advanced tuck planche is the position of the back. Note that in the tuck planche the back is curved, while in the advanced tuck planche the back appears flat. While holding your hips shoulder high, try to extend your hips back behind you until your back is flat. This "flattening" will greatly increase the intensity of the tuck planche. In fact, I think you will be extremely surprised at how much harder such a small movement can make the tuck planche. Continue working this position, until you are once again able to hold the static for 60 seconds correctly in a single set with your back completely straight ("flat").
Straddle Planche:



Once you have mastered the advanced tuck planche position you are ready to work on the straddle planche. Finally! After hard consistent work the end is now in sight. While learning this skill, it is also beneficial to practice the next progression (the tuck planche push-up) at the same time. One will build upon the other. From the advanced tuck planche position, simply begin to extend your knees behind you from their position on your chest. Balance is critical here. As you extend your legs farther behind, you will also have to lean a little farther forward to compensate. The wider your legs are the easier the straddle planche will be (note: for those of you planning for the future, as you get stronger in the straddle planche you can increase the difficulty by bringing your legs closer together). Make small adjustmen ts from workout to workout trying to either increase the length of your static hold or the extention of your position. Do not try to increase both at the same workout. BE PREPARED - just a small movement will greatly lessen your leverage on this exercise and make the movement much harder. This movement is so much more difficult, that it is not necessary to be able to hold it for 60 seconds before moving on. Once you can hold a straddle planche correctly for 10 seconds you will be able to move on. I know, I know . . . only 10 seconds! But trust me, it will feel like much longer while you are doing it.
Tuck Planche Pushups:


By the time you begin working straddle planches, you will have achieved a reasonable amount of static strength and are ready to begin adding a dynamic movement to your static hold. The description of a tuck planche push-up is fairly straightforward; while in an advanced tuck planche position, simply attempt to perform a pushup. To receive the full benefit, be sure (or at least try!) to maintain the hips level with the shoulders during the descent and ascent of this movement. Don't forget to fully straighten the elbows at the to of the movement. Reps and sets are completely up to you. Straddle Planche Pushups Once you have learned both the straddle planche and tuck planche push-ups, you are now strong enough to tackle straddle planche push-ups. You could consider the planche pushup a super bench press or a full body press. In addition to working the triceps, chest and front delts, you also have a full contraction of the lats, middle back and lower back as well as the traps. The triceps and the forearms are also working hard stabilizing the elbow joint. Core strength is extremely taxed as the upper and lower abs, obliques, serratus and hip flexors all struggle to maintain the stretched (body) position. From the straddle planche, begin to lower yourself to the ground. Be careful to keep the hips level with the shoulders as you descend, as there is a tendency when first learning this skill to simply try to dip the shoulders forward. Pause just off the ground and extend back up to the straddle planche. Also be aware that as you rise from the bottom position, it will be quite a struggle to maintain your hips level with your shoulders. Variations At first you may only be able to lower but not lift out of this position. This is fine. Any variations for progressing a press movement will also work fine here. Negatives, part negatives, isometrics etc...
Well that is part 1 - the planche, look out for part 2 very soon - the front lever. Take a look here to learn more about Coach Sommer and his gymastic conditioning training and we'll see you at the 2012 Olympics!! Enjoy!!